Gutters in Columbia, MD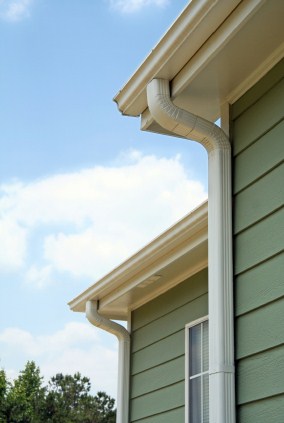 Kelbie Home Improvement, Inc. has been providing reliable and quality gutter installations in Columbia, MD since 1982.
When it comes to installing gutters in Columbia, our skilled roofers do the job right, maintaining our commitment to quality and high standards. We at Kelbie Home Improvement, Inc. have the expertise and dependability that you are looking for in Columbia. We offer the most professional and affordable residential and commercial gutter installation in Columbia, MD.
Kelbie Home Improvement, Inc. can successfully install gutters in Columbia using any roof gutter products in the market today. We are your top choice to install your seamless gutters or if you chose, sectional gutters. Our tradesmen will install aluminum gutters, copper gutters, vinyl gutters or steel gutters for your roof in Columbia. Kelbie Home Improvement, Inc. offers a wide selection of metal gutters or vinyl gutters for our customers in Columbia to select from. We also expertly install fascias and downspouts in Columbia. Kelbie Home Improvement, Inc. only offers the finest quality gutter products so that you're ensured high performing gutter system for your roof. Let our experienced roofers in Columbia handle your roof gutters and do the job right!
Do you need gutter repair in Columbia? Don't hesitate to call us! Kelbie Home Improvement, Inc. knows how to repair gutters on any building, office or home. Kelbie Home Improvement, Inc. also offers gutter cleaning in Columbia. We clean gutters so that you don't have to do the dirty work! Remember, we are your go-to roofing company in Columbia for any gutter job!
Since 1982, Kelbie Home Improvement, Inc. has been cleaning and installing gutters in Columbia, building a reputation of being dependable and affordable. You can trust that Kelbie Home Improvement, Inc.'s roofers in Columbia are as courteous as they are knowledgeable.
Contact Kelbie Home Improvement, Inc. about your gutter work in Columbia, Maryland. Our Columbia crew will be happy to provide you with a competitive gutter quote and stand by the outstanding roofing service that we deliver.
---
WHAT CUSTOMERS ARE SAYING: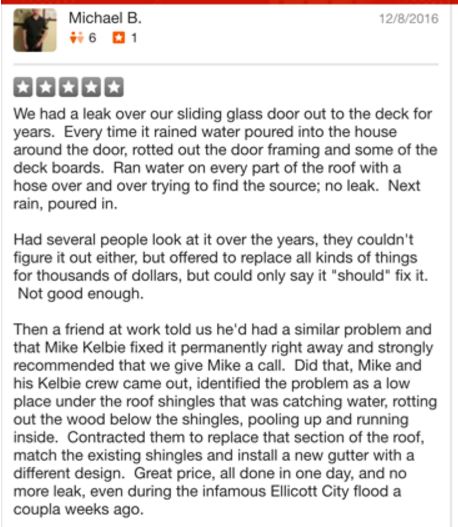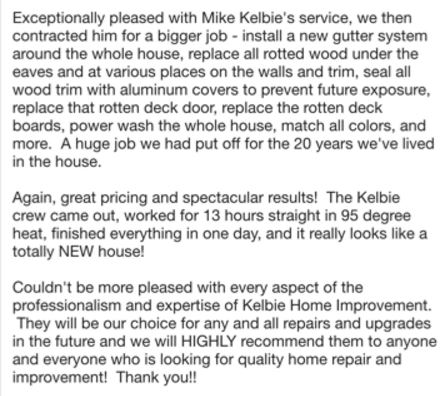 Michael B. in Columbia, MD
---
5★★★★★ - "I would recommend Kelbie roofing to anyone looking for quality work at competitive
pricing. I had a few other contractors provide quotes that were suspiciously low, but
after thoroughly reading the contract I realized it was not worth the money to have sub
par work done with sub par materials. Within 20 minutes of calling Kelbie Roofing, the
owner, Mike, came to my door, put up the ladder and took 20 minutes thoroughly
inspecting my roof. The other companies didn't even bother to come and meet me
personally to explain my options. They simply flew a drone over my roof and gave me 1
option- to replace the whole thing citing that they couldn't find the source of the leak!
After personally inspecting my roof, Mike sat down with me and offered multiple
solutions at various price points. He went out of his way to work with me to find a
solution that would work within my budget including 0 interest financing. He was
professional, responsive, and generally a good guy to work with. His men worked non-
stop for 2 days to replace my roof. They were polite, courteous, and extremely efficient.
I opted for the 20 year membrane that is eco friendly and can be used for a federal tax
write off! Hats off to this company for outstanding work! Also, Kelbie roofing is a family
owned business. It is clear that he takes personal pride in his work and I fully endorse
supporting local family owned businesses!"
Marianna McGill, Roofing in Columbia, MD
---
5★★★★★ - "Mike,
Thanks for providing roofing service for my home on short notice. You were prompt in your response. I was very satisfied with you providing turnkey services by cutting my trees away from the roof, cleaning the gutters, and making repairs to the roof. Not to mention, the price was right for me."
Perry in Columbia, MD
---
5★★★★★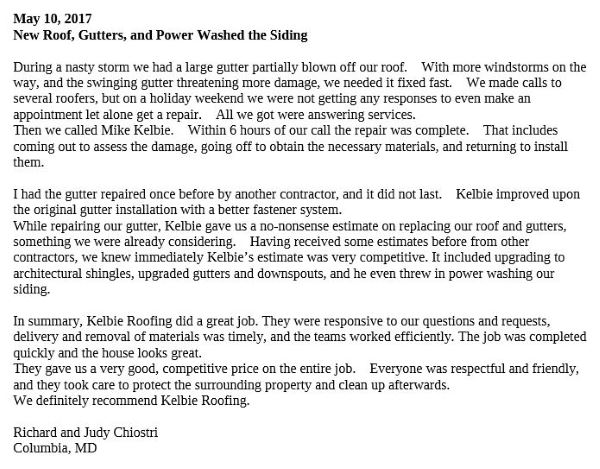 Richard & Judy Chiostri - Roofing, Gutters, Siding in Columbia, MD
---
Call for FREE Gutters Quote
---