Asphalt Seal Coating in Columbia, MD
Seal coating protects your Columbia asphalt driveway from weather damage, automotive fluids, and every day wear and tear. It also give your driveway a beautiful finish. Kelbie Home Improvement, Inc. has been seal coating driveways in Columbia, Maryland for 35 years.
Get premium weather protection with a professionally applied seal coat by Kelbie Home Improvement, Inc.. Our professional staff will get the job done right the first time, making your driveway beautiful and safe. Call (301) 232-3342 today for a free quote.
Seal coat your Columbia driveway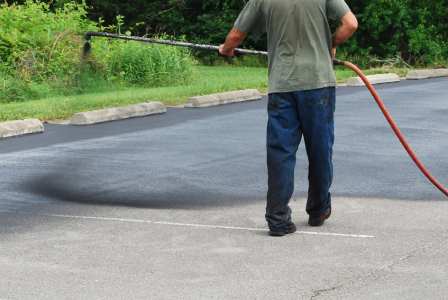 Driveways take a beating from the weather, vehicular traffic, chemicals, and pedestrian traffic.
Make sure your Columbia, MD asphalt driveway is up to the task with a premium seal coat, applied by the experts at Kelbie Home Improvement, Inc..
We use a sand slurry mixed with sand for the best seal coat performance. The Kelbie Home Improvement, Inc. seal coating process includes asphalt cleaning, pre treating chemical spills and cracks, and hand applied seal coat.
For premium asphalt maintenance in Columbia, call (301) 232-3342 to schedule your residential driveway seal coating job.
Worry-free asphalt maintenance.
A properly seal coated driveway is much easier to maintain and is safer for your family. In fact, regular asphalt seal coating makes your driveway safer for your vehicles, too.
Once you have asphalt erosion, frost heaves, or potholes, the only solution is to completely resurface your asphalt. Proper maintenance of your Columbia driveway saves you money by preventing costly repairs.
Make your life easier by calling the Columbia seal coat specialists at Kelbie Home Improvement, Inc. for a professional seal coat application: (301) 232-3342.
Get rid of the bumps in your road.
An asphalt driveway doesn't last forever. But you can make it last longer by calling Kelbie Home Improvement, Inc. for professional asphalt seal coating. Kelbie Home Improvement, Inc. has been seal coating residential driveways in Columbia, MD for 35 years.
---
WHAT CUSTOMERS ARE SAYING:
5★★★★★ - "I would recommend Kelbie roofing to anyone looking for quality work at competitive
pricing. I had a few other contractors provide quotes that were suspiciously low, but
after thoroughly reading the contract I realized it was not worth the money to have sub
par work done with sub par materials. Within 20 minutes of calling Kelbie Roofing, the
owner, Mike, came to my door, put up the ladder and took 20 minutes thoroughly
inspecting my roof. The other companies didn't even bother to come and meet me
personally to explain my options. They simply flew a drone over my roof and gave me 1
option- to replace the whole thing citing that they couldn't find the source of the leak!
After personally inspecting my roof, Mike sat down with me and offered multiple
solutions at various price points. He went out of his way to work with me to find a
solution that would work within my budget including 0 interest financing. He was
professional, responsive, and generally a good guy to work with. His men worked non-
stop for 2 days to replace my roof. They were polite, courteous, and extremely efficient.
I opted for the 20 year membrane that is eco friendly and can be used for a federal tax
write off! Hats off to this company for outstanding work! Also, Kelbie roofing is a family
owned business. It is clear that he takes personal pride in his work and I fully endorse
supporting local family owned businesses!"
Marianna McGill, Roofing in Columbia, MD
---
5★★★★★ - "Mike,
Thanks for providing roofing service for my home on short notice. You were prompt in your response. I was very satisfied with you providing turnkey services by cutting my trees away from the roof, cleaning the gutters, and making repairs to the roof. Not to mention, the price was right for me."
Perry in Columbia, MD
---
5★★★★★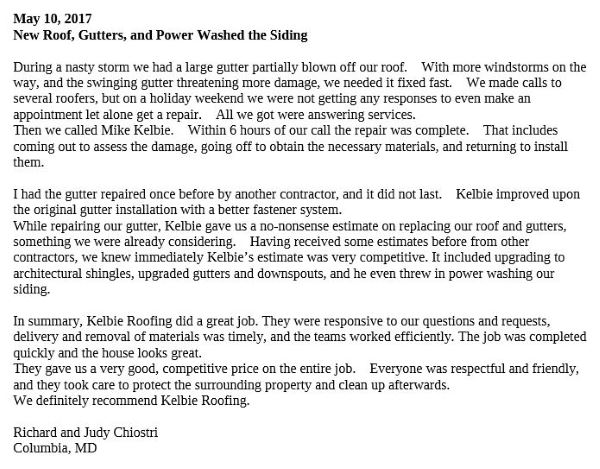 Richard & Judy Chiostri - Roofing, Gutters, Siding in Columbia, MD
---
5★★★★★ - "New roof, gutters, and power washed the siding
Kelbie Roofing did a great job. They were responsive to our questions and requests, delivery and removal of materials was timely, and the teams worked efficiently. The job was completed quickly and the house looks great. They gave us a really good competitive price on the entire job. Everyone was respectful and friendly, and they took care to protect the surrounding property and clean up afterwards. Definitely would recommend Kelbie again."
Rich C. in Columbia, MD
---
Call for FREE Asphalt Seal Coating Quote
---