Gutter Guards in Baltimore, MD
Maintenance Free Gutters
With Gutter Guards installed by Kelbie Home Improvement, Inc. on your Baltimore Maryland home or building, your gutters will be zero maintenance! Kelbie Home Improvement, Inc. has been installing top quality gutter guards in Baltimore since 1982. When it comes to Baltimore gutter guards, Kelbie Home Improvement, Inc. offers quick and affordable installation. Stay safe on the ground while Kelbie Home Improvement, Inc.'s gutter guards keep leaves and twigs out of your Baltimore gutters.
Protect your Baltimore Home
The gutters on your Baltimore home or building have one purpose: Quickly divert rain water away from your roof and away from your foundation. With Kelbie Home Improvement, Inc. installed Baltimore Gutter Guards your gutter will remain free of clogging debris. Allowing your Baltimore building to last longer with less maintenance. Kelbie Home Improvement, Inc. installed Gutter Guards in Baltimore are a wise investment, as they provide years, even decades of protection to your Baltimore gutters and home.
Baltimore Gutter Guards Save Time, Money & Health
Its dangerous work climbing ladders to clean your Baltimore gutters. With Kelbie Home Improvement, Inc. installed Gutter Guards, your Baltimore home or building gutters will basically be maintenance free. No more pulling wet muck while perched on a shaky ladder. No more paying a handyman to clean your Baltimore gutters. You'll retain your time, your money and your health with Gutter Guards on your Baltimore home.
ACT NOW ... Before the next storm hits Baltimore
Another storms is coming. Will your Baltimore gutters be guarded? Why wait? Call Kelbie Home Improvement, Inc. now for a fast, friendly and free quote on Baltimore gutter guards. Protect your Baltimore gutters, home, investment, and health. Call Kelbie Home Improvement, Inc. to install gutter guards on your Baltimore property today!
---
WHAT CUSTOMERS ARE SAYING:
5★★★★★ - "After a severe storm in which I lost over half of my flat roof ,I began to call several roofing contractors in attempts to get estimates. The more estimates I got the more I began to get extremely panicked. The prices that I got were unbelievable. Doing a google search I found Kelbie Roofing. After speaking with Mike, he took his time and did a thorough inspection of my roof, chimney and the ceilings inside that had water damage. Mike gave me several options from a patch to a full replacement and the price was really fair and reasonable. Talking to Mike I could tell he was extremely qualified and knew exactly what he was talking about. There was no pressure, he even advised if I wanted to get more estimates he would expect no less never go with just one or two estimates. Mike sat down with me and completely went through the entire process that would take place to replace the roof from start to finish. After speaking with Mike, we decided that his knowledge and courtesy was the way we wanted to go. After signing the contract we set up a start date, the crew he sent showed up on that date on time ready to work. The crew was very courteous and professional. When they began to tear off the roof, the crew made sure that my property on the side of the house where they were tossing the trash off and my wife's flower beds were protected. If I ever had a question during this process Mike and the crew never hesitated to answer the question being as this was my first time with such a large repair. The crew went above and beyond to make sure the job was completed properly and that it looked very good. From the tear off to the minor finishing touches, I am completely satisfied with the job Kelbie Roofing did for me and I will not hesitate to use them in the future. Thank you Mike.
Tim from Baltimore"
Tim in Baltimore, MD
---
5★★★★★ - "I have a rowhouse in Baltimore City that is over 100 years old, and the flat tar roof was in dire need of repair. I called several contractors over the course of a few days, and left messages in order to get a quote. When I called Mike, he picked up the phone right away and offered to come by the house on the same day to have a look at what needed to be done. Mike was clearly the most knowledgeable contractor I spoke to when we needed some repairs.
Mike provided me with a range of solutions, with a choice of quick fixes or a more permanent result. Mike was able to react according to my budget and was able to offer me a solution that would work for my family. We discussed several options, and Mike was able to work with me to get what we needed done.
I found that Mike was incredibly easy to deal with, very efficient from start to finish, and provided pictures of the roof to show the completed work. Kelbie Home Improvement is reliable and of expert quality, with great attention to detail. The work is guaranteed which puts my mind at ease, and I know that in the future I can rely on Kelbie Home Improvement for any house repair that is needed. Highly recommended!"
Rachel Berthold, Roofing in Baltimore, MD
---
5★★★★★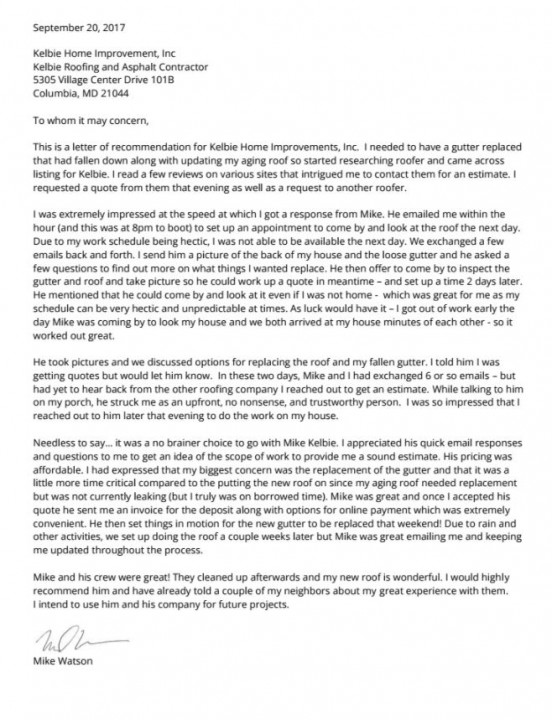 Mike Watson, Gutters in Baltimore, MD
---
5★★★★★ - "Had my roof fixed a couple months ago but had a small leak because my drain was backing up. Kelbie came by and fixed it quickly and at no cost! Didn't believe how good the warranty was going to be until they fixed the problem so quickly!!!"
Jason in Baltimore, MD
---
Call for FREE Gutter Guards Quote
---