Blog
4/21/2017
Time to Replace Your Roof Decking?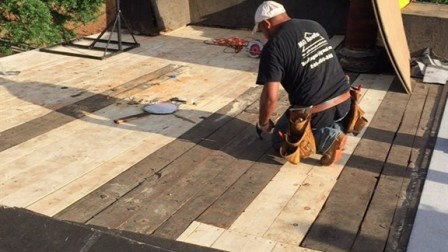 There is no way to tell whether your roof decking needs to be replaced until the existing shingles and under-surface have been removed. When the roof on your home or commercial building is being replaced, roof decking may end up being an additional, unexpected cost.
Damage or undersized decking can cause your roof to feel bouncy when walking on it. This is a good indication of whether there are damaged areas or a 3/8" plywood under-surface. Before local building codes have changed, 3/8" plywood was acceptable and used quite often due to its low cost. Now, new building codes probably mean new roof decking. Re-roofing over the 3/8" is allowed, but if you're replacing all the roof's decking, upgrading to a minimum 1/2" thickness is required.
Upgrading, rather than fully replacing, may seem like the way to go, but you're really just installing a new product over a weak surface. Although new shingles will be installed properly, without having a thicker substrate, the nails won't have good holding power. Because every roof in the Columbia area needs a solid foundation, making sure there is a solid roof decking below your brand new roof is important and necessary.
So, although replacing your roof decking in Columbia or a surrounding area can be an added expense, it will expand the lifespan of your Columbia area roof. If you're in need of a full estimate that includes the cost of decking repair and/or replacement, call Kelbie Home Improvement, Inc.. We will provide you with the best quote and provide the best roofing experience! Call (301) 888-5404 to schedule an estimate.