Roofing in Adelphi, Maryland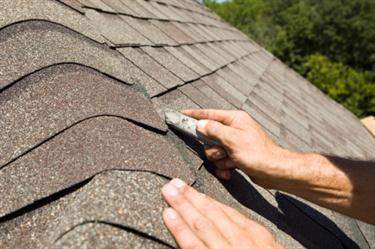 Kelbie Home Improvement, Inc. has been providing reliable, quality
roofing in Adelphi, MD
since 1982.
When it comes to a successful roof installation in Adelphi, our skilled Adelphi roofers do the job right, maintaining our commitment to high standards and customer satisfaction. We at Kelbie Home Improvement, Inc. have the Adelphi roofing expertise and dependability that you are looking for.
We offer the professional and surprisingly affordable residential and commercial roofing Adelphi MD residents demand. Give us a call today to see how we can help with your Adelphi roofing project!
There are many types of roofing materials available on the market to choose from. From flat roofs to shingles, Kelbie Home Improvement, Inc. has a proven track record delivering superior roofs. Let our experienced Adelphi roofers help you determine the right solution for your roofing needs and desires.
If you need roof repairs in Adelphi, don't hesitate to call Kelbie Home Improvement, Inc.! Whether you have a leaking roof, curling or missing shingles or cracking tiles, Kelbie Home Improvement, Inc. can assist you with those roof problems as well. We are the trusted resource for repairing roofs in Adelphi. You can be assured that your Adelphi roofing repairs will be done quickly and correctly with Kelbie Home Improvement, Inc..
Since 1982, Kelbie Home Improvement, Inc. has provided residents with superior roofing in Adelphi MD. Let us help extend the life of your Adelphi roof! You can trust that Kelbie Home Improvement, Inc.'s roofers in Adelphi are as courteous as they are professional.
Contact Kelbie Home Improvement, Inc. regarding your roofing project in Adelphi, Maryland. Our Adelphi roofers will be happy to provide you with a competitive roofing quote and stand by the outstanding Adelphi roofing service that we deliver.
---
Call for FREE Roofing Quote
---
WHAT CUSTOMERS ARE SAYING:
5★★★★★ - "Michael was very accommodating in coming out within a few days of contacting him to clean the gutters and downspouts on our rental townhouse. Pictures that were texted to me showed the excellent job his crew did on the gutters."

Sandra G., Roofing in Columbia, MD

2019-11-11

5★★★★★ - "Exceptional service and communication, my experience with Kelbie Roofing was top notch!"

Lindsey B., Roofing in Baltimore, MD

2019-10-11

5★★★★★ - "Mike K does what he says he will do, when he says he will do it and at the price he says. He worked miracles get my property in condition to sell in a pretty tight timeline. First rate work all around. Highly recommend."

Shawn E., Roofing in Columbia, MD

2019-10-11

5★★★★★ - "Kelbie replaced the roof on my row home. This was the best experience with home repair, I've ever had. They were fast, on time and knowledgeable about the work to be done. I would absolutely recommend this company. 5 stars to you Kelbie Roofing."

Debra M., Roofing in Columbia, MD

2019-09-12

5★★★★★ - "Mike K***** is a excellent roofer and dedicated to his customer concerns. His word is his bond and that is hard to find these days. I recommend him to anyone I know."

Pernell M., Roofing in Columbia, MD

2019-07-24

5★★★★★ - "Mike K***** was always very responsive to questions and was able to schedule and complete our roof repair quickly. The work was done well and Mike followed up with us to make sure we were happy with the work. I would certainly trust another roof repair of replacement to Mike K*****."

Patrick V, Roofing in Columbia, MD

2019-07-24

5★★★★★ - "I live 600 miles from my daughter's family in DC. Both of them work so I was tasked with getting a much need roof replaced in the Capitol Hill/ Eastern Market area. I contacted Kelbie and within hours was told he would run by their house and give an estimate. Within a day he got back to me with a price and a day he could do it within that week. The tone of his note was all I needed. 3 days later and just prior to a major snow storm last December he did the work in 1 day. The roof entailed replacing a few rotten underpayment boards, a new 20 year guaranteed membrane, gutters and flashing. Last week my wife and I paid a visit since the replacement and requested an additional area of flashing. He responded quickly and within 3 days with no additional cost the added material was installed. Now that's service! Reasonable fee, good work, friendly prompt service and terrific communication makes this firm outstanding!"

Howard S., Roofing in Washington, DC

2019-05-03

5★★★★★ - "I bought my home in Baltimore City in 2006 and the roof was shoddy at best. After Hurricane Irene in 2011 I called Mike Kelbie for a quote. He was extremely professional and honest. He replaced my roof in 1 day and I haven't had a problem since! Thank you Mike!"

Julie D in Baltimore, MD

2019-04-01

5★★★★★ - "Kelbie Roofing fitted my roof replacement into their schedule when no one else could! Not only were they quick, but the work was also of high quality at a reasonable price. I also appreciate how responsive they were with all of my questions and concerns. To sum it up, great job matched by great customer service. I will definitely consider them for future work!"

Nikki in Baltimore, MD

2018-12-12

5★★★★★ - "Mike and team did a good job diagnosing a leak around a problematic chimney and addressed it for me. Very satisfied!"

D Parrish, Roofing in Columbia, MD

2018-12-03

5★★★★★ - "Jim and Modesto did a great job on our flat roof and brick/stucco sealing in Canton. I would highly recommend Kelbie for this type of work."

Jim Potter in Baltimore, MD

2018-11-15

5★★★★★ - "I have known the proprietor Michael Kelbie for 20 years as a flat roof contractor and find him a pleasure to work with. His company replaced my flat roof 20 years ago and I was more than pleased to find that his company is still replacing and repairing roofs as well as other home improvement services in 2018. Meeting with Michael Kelbie we discussed the scope of work, timeframe, and costs. A contract was presented for the agreed upon work and a deposit on services to be performed was made. His roofing staff arrived in a timely manner and replaced my roof within one week as well as replacing shingles. As the work was completed debris was taken away promptly and the area cleaned. Also included in the contract was drywall and paint the affected areas where water leaking had occurred. The paint contractor arrived timely and did an excellent job and tidy up upon completion. I am very pleased with all of the work that was done and highly recommend Kelbie Home Improvement, Inc. Michael Kelbie is reliable, reasonable, and gets the job done very well. Finding a good contractor is no easy task and I'm just glad that I had prior experience with Kelbie Home Improvement and could rely on their services."

Sharon C., Roofing in Baltimore, MD

2018-06-26

5★★★★★ - "Kelbie Roofing installed my roof several years ago. The estimate was competitive and the quality of the work outstanding. Whereas most companies replace individual pieces of plywood, Kelbie replaced the plywood on the entire structure. This sped up the completion time, along with the peace of mind of having all new plywood. Included in the estimate were newly covered gutters and new trim throughout the structure. Currently, our house went on the market and is sold. One of the advantages that I can pass on to the next owner is the 50-year transferable warranty that I received the shingles I chose. I contacted Kelbie roofing during the sale of our home and Mike Kelbie, the owner, helped us with sending us the original warranty so we can pass on the peace of mind to the new owners of the house. The experience of dealing with Kelbie roofing, in the past as well as in the present has been an excellent example of how companies should deal with customers, not only during the initial installation but long after the work has been completed!"

Francis Baranson in Baltimore, MD

2018-03-23

5★★★★★ - "Kelbie Roofing has been extremely helpful and consistently responsive with our roofing issues for a long time now. They are very reliable and a contractor who you can really trust. You could sense that they are trying to help satisfy your needs and ensure that the issues you have will go away! I highly recommend anyone to go for Kelbie Roofing for any of your roofing issues, including gutter guards. Very reasonable pricing! You will not be disappointed!"

Arthur, Roofing in Columbia, MD

5★★★★★ - "After a severe storm in which I lost over half of my flat roof ,I began to call several roofing contractors in attempts to get estimates. The more estimates I got the more I began to get extremely panicked. The prices that I got were unbelievable. Doing a google search I found Kelbie Roofing. After speaking with Mike, he took his time and did a thorough inspection of my roof, chimney and the ceilings inside that had water damage. Mike gave me several options from a patch to a full replacement and the price was really fair and reasonable. Talking to Mike I could tell he was extremely qualified and knew exactly what he was talking about. There was no pressure, he even advised if I wanted to get more estimates he would expect no less never go with just one or two estimates. Mike sat down with me and completely went through the entire process that would take place to replace the roof from start to finish. After speaking with Mike, we decided that his knowledge and courtesy was the way we wanted to go. After signing the contract we set up a start date, the crew he sent showed up on that date on time ready to work. The crew was very courteous and professional. When they began to tear off the roof, the crew made sure that my property on the side of the house where they were tossing the trash off and my wife's flower beds were protected. If I ever had a question during this process Mike and the crew never hesitated to answer the question being as this was my first time with such a large repair. The crew went above and beyond to make sure the job was completed properly and that it looked very good. From the tear off to the minor finishing touches, I am completely satisfied with the job Kelbie Roofing did for me and I will not hesitate to use them in the future. Thank you Mike.
Tim from Baltimore"

Tim in Baltimore, MD

5★★★★★ - "I would recommend Kelbie roofing to anyone looking for quality work at competitive
pricing. I had a few other contractors provide quotes that were suspiciously low, but
after thoroughly reading the contract I realized it was not worth the money to have sub
par work done with sub par materials. Within 20 minutes of calling Kelbie Roofing, the
owner, Mike, came to my door, put up the ladder and took 20 minutes thoroughly
inspecting my roof. The other companies didn't even bother to come and meet me
personally to explain my options. They simply flew a drone over my roof and gave me 1
option- to replace the whole thing citing that they couldn't find the source of the leak!
After personally inspecting my roof, Mike sat down with me and offered multiple
solutions at various price points. He went out of his way to work with me to find a
solution that would work within my budget including 0 interest financing. He was
professional, responsive, and generally a good guy to work with. His men worked non-
stop for 2 days to replace my roof. They were polite, courteous, and extremely efficient.
I opted for the 20 year membrane that is eco friendly and can be used for a federal tax
write off! Hats off to this company for outstanding work! Also, Kelbie roofing is a family
owned business. It is clear that he takes personal pride in his work and I fully endorse
supporting local family owned businesses!"

Marianna McGill, Roofing in Columbia, MD

5★★★★★ - "Kelbie Roofing company put a new roof on my home which was in desperate need of a new one due to wind damage. On February 7, 2017 I called for an estuimate and Shawn was here the same day. The price was great and the roof was just what I wanted. The men that worked here were very pleasant and made sure I didn't have any debris to clean. I would highly recommend Mike to anyone that needs any work done on their home. Kelbie Home Improvement, Inc. is agreat company!"

Millie Connolly, Roofing in Glen Burnie, MD

5★★★★★ - "Mike, Thank you for helping me replace my roof. The work completed by your team was professional and was completed as per the schedule given by you. Most of the businesses will ignore the customer after the project is completed and the payment was made. That was not the case with Kelbie Roofing. You helped me fix the window screen. In addition, your team came back to clean any of the debris and nails. Once again, thank you for helping me. I would recommend Kelbie Roofing to friends."

Bhanu, Roofing in Laurel, MD

5★★★★★ - "I have a rowhouse in Baltimore City that is over 100 years old, and the flat tar roof was in dire need of repair. I called several contractors over the course of a few days, and left messages in order to get a quote. When I called Mike, he picked up the phone right away and offered to come by the house on the same day to have a look at what needed to be done. Mike was clearly the most knowledgeable contractor I spoke to when we needed some repairs.
Mike provided me with a range of solutions, with a choice of quick fixes or a more permanent result. Mike was able to react according to my budget and was able to offer me a solution that would work for my family. We discussed several options, and Mike was able to work with me to get what we needed done.
I found that Mike was incredibly easy to deal with, very efficient from start to finish, and provided pictures of the roof to show the completed work. Kelbie Home Improvement is reliable and of expert quality, with great attention to detail. The work is guaranteed which puts my mind at ease, and I know that in the future I can rely on Kelbie Home Improvement for any house repair that is needed. Highly recommended!"

Rachel Berthold, Roofing in Baltimore, MD

5★★★★★ - "Mike Kelbie is extremely reliable and eminently competent. I could not recommend him more highly after seeing his work on multiple jobs over many years."

Lauren Streiff, Roofing in Owings Mills, MD

5★★★★★

Richard & Judy Chiostri - Roofing, Gutters, Siding in Columbia, MD

5★★★★★ - "Mike, Thank you for helping me out with replacing the roof. The work completed by your team was professional and was completed as per the schedule given by you. Most of the businesses will ignore the customer after the project is completed and the payment was made. That was not the case with Kelbie Roofing. Your helped me fix the window screen. In addition your team came back to remove any of the debris and nails. Once again thank you for helping me. I would recommend Kelbie Roofing to friends. Regards, Bhanu"

Bhanu, Roofing in Laurel, MD

5★★★★★ - "New roof, gutters, and power washed the siding
Kelbie Roofing did a great job. They were responsive to our questions and requests, delivery and removal of materials was timely, and the teams worked efficiently. The job was completed quickly and the house looks great. They gave us a really good competitive price on the entire job. Everyone was respectful and friendly, and they took care to protect the surrounding property and clean up afterwards. Definitely would recommend Kelbie again."

Rich C. in Columbia, MD

5★★★★★ - "Probably the best experience I've has with a contactor. Responded by text the next day and was able to jump onto my roof without me being home and sent me an estimate the same day. Also they were able to work me in and get everything done within 1 week. Very tech savvy and continuously gave me updates via text and photos. I brought up some concerns about a specific area of concern and he came up with a solution. Would definitely recommend to friends and family."

Jason W., Roofing in Baltimore, MD

2017-03-23

5★★★★★ - "Kelbie Roofing company, put a new roof on my home which was in desperate need of a new one due to wind damage. On February 7, 2017 I called for an estimate and Shawn was here the same day. The price was great and the roof was just what I wanted. The men that worked here was very pleasant and made sure I didn't have any debris to clean. I would highly recommend Mike to anyone that needs any work done on their home. Kelbie Home Improvement, Inc. is a great company."

Millie Connolly, Roofing in Glen Burnie, MD

5★★★★★ - "Keblie Roofing is truly a family run company with 5 generations of roofing expertise (I think I had 3 generations on my roof personally). I was in a difficult situation with water rushing into my home every time it rained. Kelbie was the third roofing contractor that I called and they provided a quote that was 20% to 50% less than their competition. They also provided a longer warranty than I was offered elsewhere. They had the work done within a week and the leakage has completely stopped. I highly recommend them for flat roofs, quick turnarounds and very fair pricing."

Robby B., Roofing in Columbia, MD

2016-09-19

5/5 Stars by Carmen E.

5★★★★★ - "Complete tear off of existing roof shingles. Installation of GAF Timberline Lifetime Roofing system. Replaced two skylights. Overall A rating."

Jean Van der Kaay, Roofing in Frederick, MD

2015-07-06

5★★★★★ - "They replaced my whole roof. They are very good. Michael Kelbie is an excellent person. They have worked on my son's house and will be starting on my daughter's soon. Very compassionate and pleasant guy. They are very fair."

Gary Varano, Roofing in Kensington, MD

2015-07-06

5★★★★★ - "Recently I needed a great deal of work on the exterior of my house. I needed a new roof, new gutters, new soffit and fascia, carpentry work to replace rotted wood around the roof and front porch, all exposed wood surfaces needed repainting, as did the front porch both ceiling and floor. The side roof over the porch was was repaired and coated. I also need masonry repairs on the front stairs, large French doors replaced in a room off the kitchen in the rear of the house. I was a bit apprehensive about getting involved with a contractor, especially for a job this large but I hit the jackpot when I hired Kelbie Home Improvement Inc with Mike Kelbie as it's president. I am TOTALLY satisfied with the work done, it is of the highest quality workmanship, all of the employees I have met are first class people as well as experts in their trade. Mike Kelbie is a man of high integrity, I trust him completely. Mike always returns calls and e-mails in a timely fashion and keeps you up to date on the progress of the job. I am not alone in my high opinion of Mike's company, everyone on the block raves about the quality of work done and some of my neighbors have hire Mike to do projects on their homes. I have the highest praise for Mike's company and for Mike himself, from now on Mike is my contractor for life. I would not even consider using any other contractor. Anyone who hires Kelbie Home Improvement in my opinion is getting the best contractor on the east coast if not the entire country."

Michael Misler, Roofing, Gutters and Fascia Boards in Washington, DC

2014-07-29

5★★★★★ - "Hired Kelbie to lay a new flat roof over an existing leaking one. Work was done quickly and professionally and not problems to date. Very happy with the work and service and Mike was flexible in working with us."

David L., Roof Installation in Washington, DC

2019-10-11

5★★★★★ - "Appreciated the response and willing to work with me for a leaky roof. I would highly recommend for roofing and other contracting needs."

Brian D, Roof Repair in Columbia, MD

2019-10-07

5★★★★★ - "When you find a stand-up company that is about people first, you let everyone know about them!!! Thank you, Mike, of Kelbie Roofing, for coming out today in the pouring rain to repair my skylight. You and your company are a Godsend! I will definitely use you all to replace my roof!!!! A million thank yous!!!!!!!"

Marie C., Roof Repair in Columbia, MD

2019-09-12

5★★★★★ - "Needed a new roof in the dead of winter mike and his guy replaced my entire roof on both of my houses in a matter of a week with a pending rainstorm lurking very impressive AND NO LEAKS thanks guys"

Gregory T., Roof Installation in Columbia, MD

2019-09-12

5★★★★★ - "Kelbie was great did a fantastic job on my roof was able to stop all my roof leaks and give a warranty If there was a problem I'm sure he would take care of it Would definitely recommend this company to anyone looking for a roofer who knows what to do Easy to work with and the crew was nice to Professional cleanup A lot of heavy rains and never had any problems."

Anonymous, Roof Repair in Columbia, MD

2019-09-12

5★★★★★ - "Mike and his crew did an amazing job on my roof and was very pleasant to work with. I am Very Happy with my new roof..."

Ms. James in Baltimore, MD

2019-09-09

5★★★★★ - "I am more than pleased with my new roof. I requested a quote for a new flat roof from Kelbie on a Monday evening via their website. Mike responded immediately and came to quote my roof on Wednesday, then by Saturday, I had a new roof. It was a pleasant experience, at a fair price. Mike gave me several options, from complete tear off to simply coating it, however, he informed me that the tear-off was not necessary, which other companies said was necessary. I appreciated his honesty since a tear-off was the most costly option. I chose the option that gave me a 20-year warranty so I won't have to worry about it again. Mike saw there was other work on my skylight that was needed but not included in the quote, but he fixed it anyway at no charge, simply because it needed to be done. His workers cleaned up after themselves daily and protected my white vinyl decking during the process.

I would highly recommend Kelbie Home Improvement to anyone. I am currently in the process of making a list of repairs needed around my home that I will hire Kelbie to do simply based on my experience this time. It's hard to choose a contractor from the internet…I've been burned before, but I can honestly tell you Kelbie has a customer for life!"

Marlene M., Flat Roofs in Columbia, MD

2019-08-01

5★★★★★ - "This is the second time my flat roof developed a leak. Mike responded immediately before any damage could be done. The first time it was still raining. Today it has stopped. I cannot express how grateful I am to Mike and his crew. No one can provide better or quicker service. The old leak is gone and the work they did today insured my vent pipe will NEVER leak again. They even siliconed the vent pipe to insure its integrity. I really cannot express how impressed I am with Kelbie Roofing. Don't bother calling anyone else, you won't find better. Thanks again Mike."

Gary Bernstein in Lutherville, MD

2019-07-30

5★★★★★ - "Mike came out same day to evaluate, Fixed two days later after high winds died down.
Put new roof on in one day.
Awesome!"

Mike D. in Baltimore, MD

2018-12-03

5★★★★★ - "We had a leak in our flat roof. We got three estimates and Kelbie was the most reasonable. They came out and fixed the flat roof and reshingled the back side of the house all in one day. They cleaned up and did great work. I highly recommend Kelbie Roofing. They were very professional and friendly."

Athena, Roof Repair in Columbia, MD

2018-07-30

5★★★★★ - "Mr. Kelbie had his crew service my roof on the same day that I called for service. They went above and beyond to complete the job. I am very satisfied and will definitely recommend others. Job well done!"

Perry, Roof Repair in Columbia, MD

2018-03-07

5★★★★★

Mike Watson, Gutters in Baltimore, MD

5★★★★★ - "Mike,
Thanks for providing roofing service for my home on short notice. You were prompt in your response. I was very satisfied with you providing turnkey services by cutting my trees away from the roof, cleaning the gutters, and making repairs to the roof. Not to mention, the price was right for me."

Perry in Columbia, MD

4★★★★☆ - "After seeing a spot grow in the corner of our bathroom ceiling, I knew we needed to have our flat roof repaired. I put it off, not wanting to deal with the hassle, but our experience with Kelbie was anything but that. I called on a Saturday, fully expecting to have to take time off of work for somebody to take a look at it. Mike was at our house within an hour of our call,he fixed any future leaks and the roof was completed in just a few days. He quoted us less than the competitor and gave a 20 year warranty compared to a five year warranty that was offered by another company. We are glad to have that task off our home improvement list."

Anonymous in Ellicott City, MD

5★★★★★ - "Had my roof fixed a couple months ago but had a small leak because my drain was backing up. Kelbie came by and fixed it quickly and at no cost! Didn't believe how good the warranty was going to be until they fixed the problem so quickly!!!"

Jason in Baltimore, MD

5★★★★★ - "Kelbie Roofing is truly a family run company with 5 generations of roofing expertise (I think I had 3 generations on my roof personally). I was in a difficult situation with water rushing into my home every time it rained. Kelbie was the third contractor that I called and they provided a quote was that was 20% to 50% less than their competition. They also provided a longer warranty than I was offered elsewhere. They had the work done within a week and the leakage has completely stopped. I high recommend them for flat roofs, quick turnarounds and very fair pricing."

Robby B., Flat Roofs in Columbia, MD

5★★★★★ - "Had a leaky roof with a line of thunderstorms just hours away. Kelbie answered the last-minute call and promptly arrived on site to perform the repair. Replaced a few shingles and gave good advice on maintenance. Work looked great and survived both the thunderstorms less than an hour later as well as a wind storm the next day. I would call them again for any future needs. Recommended!"

Joe in Severn, MD

5★★★★★ - "Very communicative via text and photos. Got an estimate in 1 day without me being at home. Got the fix done in < 1 week. Very easy to work with."

Jason, Roof Repair in Baltimore, MD

5★★★★★ - "Mr. Kelbie's crew put the gutter guards on.
They did a good job.I plan on using Kelbie's Home Improvement, Inc in the future for other jobs."

S.L. in Finksburg, MD

5★★★★★ - "To Whom it May Concern: I have had the pleasure of working with Mike Kelbie of Kelbie Roofing for the past few months. I should start my telling you I live in Pittsburgh but bought a row house for my daughter in Baltimore last winter. She did not move into it until almost four months later. Unfortunately, things started going wrong with the house almost immediately due to poor workmanship and I found myself looking for contractors, handymen, etc…to do various jobs. One rainy day in August my daughter noticed water dripping down the inside walls. I immediately started calling roofers to help address the situation. Only one was responsive, returning my call within an hour and coming to the house within four hours to check the situation. That individual was Mike Kelbie. He went out of his way to accommodate me and more importantly, listen. He went into action taking pictures and texting them and emailing them to me to keep me updated on what he was finding and what he recommended. It was determined that the roof would need to be replaced. He gave me various alternatives and after selecting the option that best suited us he went into action. He had his crew at the house within the week, and, Mike personally was on the job making sure all went as planned. During this entire process, Mike was in constant touch with me. One rainy night, during the replacement roof project, water started coming in one of the front windows. 10:30pm. I was texting Mike "frantic" as you can imagine hoping he could at the very least point me in the right direction of who could fix the problem. Again, Mike was at the house the next day caulking windows and frames making sure all areas were sealed properly. Never once did he make me feel like I was "bothering" him and I was texting and emailing constantly. He made sure he answered all of my questions…all 100 of them usually within 5-10 min. He is a true professional, thoughtful, a gentleman and a very hard worker! I recently called him, again, because I noticed water cascading off of the roof during an exceptionally heavy rainstorm. Within 24 hours Mike was there, again. He determined the problem to be an insufficiently sized gutter and is now in the process of replacing it. I cannot say enough about Mike and his crew and highly recommend them. He went above and beyond to make sure I was completely happy with his work…and his prices! Being from out of town you can imagine how difficult it is for me to find workman I can trust. Mike earned my trust and more. I am happy to discuss Mike Kelbie and his work at any time. I can be reached at 412-973-8688   Regards, JoAnn Scanga Pittsburgh, PA"

Anonymous, Roof Repair in Sabillasville, MD

2016-10-17

5★★★★★ - "I have two properties one in Baltimore and a rental in DC. Mike was very professional and courteous. He completed my job in a timely manner. His crew was very well mannered. I would highly recommend him and his company to anyone looking for this type of work. He also does remodeling and I'm going to have him come to my personal residence to do my basement this Fall. Thank you Mike Kelbie."

Shaun B. in Baltimore, MD

2016-09-19

5★★★★★ - "Hey Mike, David and his crew did an unbelievably great job today! New door, all wood replacement, new deck boards, aluminum fittings, paint, gutters, etc. all superb! The wife and I were both really impressed with all their hard work and meticulous detail on everything."

Mike B., Gutters in Columbia, MD

2016-09-06

5★★★★★ - " Professional experts quick response would recommend. Saved me from a bad leak with same day service!"

Jenny M., Repair Roof LeakRanked 5/5 Stars

2016-08-17

5★★★★★ - "Kelbie fixed my leaking roof. The leak was along a seam in the roofline and nearly impossible to locate. Kelbie's team relentlessly pursued every possible issue leaving me with a tightly selaed roof at a very reasonable price for the amount of work they did. Friendly and easy to work with."

Geoffrey R., Roof Repair in Ellicott City, MD

2016-08-17

5★★★★★ - "Took care of my roofing repairs quickly as well as cleaned my gutters. Also cleaned my neighbor' for good measure."

Durrell M., Roof Repair in Columbia, MD

2016-08-17




Michael B. in Columbia, MD

Catherine H., Roof Repair 5 Star Review

5★★★★★ - "I cannot say enough good things about Kelbie Roofing. I needed roof work done ASAP to get a house to closing. Mike Kelbie came out the same day and started the work immediately. He did a great job and provided pictures to document everything. The buyer's loan paperwork ended up requiring him to do a huge amount of extra work because of the type of loan---and on short notice. But he did everything needed, promptly and competently. This kind of quality and service is simply unheard of. Mike is absolutely amazing: high quality work at fair prices, with prompt, polite service. I would give 100 stars on this review if I could!"

Lauren D. in Owings Mills, MD

2016-05-31

​

Michael R., Roof Repairs/Installation in Washington, DC

Tony J. in Columbia, MD

5/5 Stars by George N.

Jay w. in Columbia, MD

5★★★★★ - "It is our pleasure to highly recommend Mike Kelbie aka Kelbie Roofing as your to go contractor for the roofing services. We were extremely impressed....... <<READ MORE>>"

Arthur Chan & Christopher Kearney

2015-09-29

"My name is Michael Owsianny and I am a landlord in the Charles Village area, zip code 21218. I needed some major work done on a Multi-Family Dwelling structure I own in Charles Village. The work included a full replacement of a flat roof, a tear down and rebuilding of a large fire-escape structure, a total replacement of a porch, and re-working of the draining/gutter system on the building. This was a big job and an investment of hard earned money back into my property – so I wanted to make sure it was done right!

Kelibie did an excellent job!!! The cost of the job was very competitive, and they did a solid job. They did not cut corners, and build the roof, fire escape, and porch to last. There were several decision points through the project where they could have gone one direction or another, and they made the decision with me, based on what was best for the long-term use and structural integrity of the property, not based on the direction that was quickest or cheapest.

I would very much recommend Kelbie for small, medium, and large projects."

Michael Owsianny

"About a year ago, during a particularly strong set of rainstorms, we had the misfortune to discover that our new home had several leaks in our roof. Being new to the Baltimore region, we had no idea who to get to fix this. So, we turned to ServiceMagic.com: an online community for finding contractors. Almost immediately after putting in our request, we received inquiries from two different companies: Kelbie Home Improvement...."<<read more>>

5★★★★★ - "Mr. Kelbie's crew did a great job on my roof. The men worked very hard. They did a good job. I am very pleased with their work. Mr. Kelbie is very easy to work with. They cleaned up the yard and covered up the bushes. I highly recommend them. "

Barbara Gella

2014-11-05

5★★★★★ - "To whom it may concern... Recently I needed a great deal of work on the exterior of my house. I needed a new roof, new gutters, new soffit and fascia, carpentry work to replace rotted wood around the roof and front porch, all exposed wood surfaces needed repainting, as did the front porch both ceiling and floor. The side roof over the porch was was repaired and coated. I also need masonry repairs on the front stairs, large French doors replaced in a room off the kitchen in the rear of the house. I was a bit apprehensive about getting involved with a contractor, especially for a job this large but I hit the jackpot when I hired Kelbie Home Improvement Inc with Mike Kelbie as it's president. I am TOTALLY satisfied with the work done, it is of the highest quality workmanship, all of the employees I have met are first class people as well as experts in their trade. Mike Kelbie is a man of high integrity, I trust him completely. Mike always returns calls and e-mails in a timely fashion and keeps you up to date on the progress of the job. I am not alone in my high opinion of Mike's company, everyone on the block raves about the quality of work done and some of my neighbors have hire Mike to do projects on their homes. I have the highest praise for Mike's company and for Mike himself, from now on Mike is my contractor for life. I would not even consider using any other contractor. Anyone who hires Kelbie Home Improvement in my opinion is getting the best contractor on the east coast if not the entire country."

Michael Misler in Washington, DC

2014-11-03

Raymond Belott in Rockville, MD
---
Call for FREE Roofing Quote
---