Metal Roofs in Crofton, MD 21114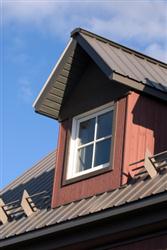 Kelbie Home Improvement, Inc. has proudly installed quality metal roofs in Crofton, MD since 1982.
Where Quality Meets Value
When it comes to installing a durable metal roof in Crofton, our skilled roofers do the job right. We always uphold our commitment to providing quality roofing materials and service delivery at a fair price. We at Kelbie Home Improvement, Inc. have the roofing expertise and dependability that you are looking for in a Crofton metal roofing contractor. We take pride in our professional service and delivery of affordable residential and commercial metal roofing installations in Crofton, MD. Kelbie Home Improvement, Inc. metal roofs are built to last!
Experienced Crofton Metal Roof Installers
Kelbie Home Improvement, Inc.'s experienced roofers can successfully install a metal roof in Crofton using a wide variety of roofing materials. Some types of metal roofing we have installed around Crofton including steel roofing, corrugated roofing, standing seam roofing and aluminum roofing. We can install steel roofs, tin roofs, copper or zinc roofs. Kelbie Home Improvement, Inc. offers a wide selection of materials for metal roof installation in Crofton, to compliment the architectural styles and colors of your home or office building. Kelbie Home Improvement, Inc. has a proven track record of providing outstanding metal roof installations. Let our experienced roofers in Crofton help you determine the right metal shingles for your Crofton roof.
Dependable Metal Roof Installation in Crofton
Do you need metal roof repair in Crofton? Don't hesitate to call us! Kelbie Home Improvement, Inc. knows how to perform metal roofing repair on any building, office or home and exceed expectations. Whether you need to repair a steel roof or copper roof in Crofton, we are your go-to roofing company in Crofton.
Since 1982, Kelbie Home Improvement, Inc. has been repairing and installing metal roofs in Crofton. We have built a reputation being dependable and detail-oriented for 36 years. You can trust that Kelbie Home Improvement, Inc.'s metal roofers in Crofton are as courteous as they are knowledgeable.
Contact Kelbie Home Improvement, Inc. about your metal roof in Crofton, Maryland. Our Crofton crew will be happy to provide you with a competitive metal roofing quote and stand by the outstanding roofing service that we deliver.
---
WHAT CUSTOMERS ARE SAYING:
5★★★★★ - "Kelbie Roofing has been extremely helpful and consistently responsive with our roofing issues for a long time now. They are very reliable and a contractor who you can really trust. You could sense that they are trying to help satisfy your needs and ensure that the issues you have will go away! I highly recommend anyone to go for Kelbie Roofing for any of your roofing issues, including gutter guards. Very reasonable pricing! You will not be disappointed!"
Arthur
---
5★★★★★ - "After a severe storm in which I lost over half of my flat roof ,I began to call several roofing contractors in attempts to get estimates. The more estimates I got the more I began to get extremely panicked. The prices that I got were unbelievable. Doing a google search I found Kelbie Roofing. After speaking with Mike, he took his time and did a thorough inspection of my roof, chimney and the ceilings inside that had water damage. Mike gave me several options from a patch to a full replacement and the price was really fair and reasonable. Talking to Mike I could tell he was extremely qualified and knew exactly what he was talking about. There was no pressure, he even advised if I wanted to get more estimates he would expect no less never go with just one or two estimates. Mike sat down with me and completely went through the entire process that would take place to replace the roof from start to finish. After speaking with Mike, we decided that his knowledge and courtesy was the way we wanted to go. After signing the contract we set up a start date, the crew he sent showed up on that date on time ready to work. The crew was very courteous and professional. When they began to tear off the roof, the crew made sure that my property on the side of the house where they were tossing the trash off and my wife's flower beds were protected. If I ever had a question during this process Mike and the crew never hesitated to answer the question being as this was my first time with such a large repair. The crew went above and beyond to make sure the job was completed properly and that it looked very good. From the tear off to the minor finishing touches, I am completely satisfied with the job Kelbie Roofing did for me and I will not hesitate to use them in the future. Thank you Mike.
Tim from Baltimore"
Tim in Baltimore, MD
---
5★★★★★ - "I would recommend Kelbie roofing to anyone looking for quality work at competitive
pricing. I had a few other contractors provide quotes that were suspiciously low, but
after thoroughly reading the contract I realized it was not worth the money to have sub
par work done with sub par materials. Within 20 minutes of calling Kelbie Roofing, the
owner, Mike, came to my door, put up the ladder and took 20 minutes thoroughly
inspecting my roof. The other companies didn't even bother to come and meet me
personally to explain my options. They simply flew a drone over my roof and gave me 1
option- to replace the whole thing citing that they couldn't find the source of the leak!
After personally inspecting my roof, Mike sat down with me and offered multiple
solutions at various price points. He went out of his way to work with me to find a
solution that would work within my budget including 0 interest financing. He was
professional, responsive, and generally a good guy to work with. His men worked non-
stop for 2 days to replace my roof. They were polite, courteous, and extremely efficient.
I opted for the 20 year membrane that is eco friendly and can be used for a federal tax
write off! Hats off to this company for outstanding work! Also, Kelbie roofing is a family
owned business. It is clear that he takes personal pride in his work and I fully endorse
supporting local family owned businesses!"
Marianna McGill, Roofing in Columbia, MD
---
5★★★★★ - "Kelbie Roofing company put a new roof on my home which was in desperate need of a new one due to wind damage. On February 7, 2017 I called for an estuimate and Shawn was here the same day. The price was great and the roof was just what I wanted. The men that worked here were very pleasant and made sure I didn't have any debris to clean. I would highly recommend Mike to anyone that needs any work done on their home. Kelbie Home Improvement, Inc. is agreat company!"
Millie Connolly, Roofing in Glen Burnie, MD
---
Call for FREE Metal Roofs Quote
---