Coupons & Kelbie's Current Specials:
$11,000 for a Complete New Roof with Lifetime Warranty from a GAF Certified Installer!
Kelbie Home Improvement Inc, a highly rated company on Angie's List and GAF certified, is offering a complete new roof for your home for $11,000!

Why You Need this Deal: A new roof is one of the most important home renovations you can make; it protects your home from the elements, adds to curb appeal, and will prevent leaks that can cost money down the road. Get your roof done cost-effectively with this great offer.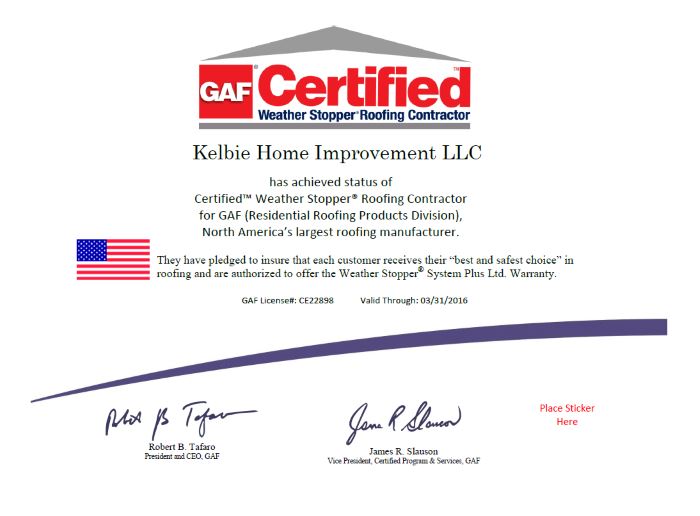 This deal includes the following:
Replacement of approximately 2,000 sq. ft. of roof shingles (which will cover many 2 story homes completely)
Complete tear-off of existing shingles (1 layer)
Inspect roof decking replacing up to 3 sheets of plywood at no charge (if more plywood is needed it will be $65 extra charge per sheet).
Removal of existing tar paper
Remove and replace flashing
Install synthetic underlayment
Install New drip edge ice and water seal in all valleys
Install new pipe boots on external roof pipes
New underlayment on pipe collars on all edges
Install GAF Timberline HD - **Multiple Colors Available
Install cobra shingle ridge vent, pro start starter strip, and timber tech ridge cap
Complete clean-up and haul-away of all debris
Magnetic roller to pick-up nails
Lifetime LTD. warranty.
6 nails per shingle
Click to verify. License# CE22898



This deal is the replacement of approximately 2,000 sq. ft. of roof shingles (which will cover many 2 story homes completely), but if you have a larger home or ranch style home you will receive a discount on any additional square footage needed at the reduced price of only $3.85 a sq. ft! This is an unbelievable deal on a complete new roof for your home, with a company that is GAF certified! Due to Kelbie Home Improvement being certified with GAF, the homeowner will get a system plus warranty on labor and materials from GAF.
The Fine Print:
Job begins when Kelbie Home Improvement arrives with samples
Not valid for cash back
Coupon cannot be combined with other specials or offers
Coupon cannot be applied to current or past jobs
Coupon is for residential service only
Appointments are to be performed during normal business hours
Promotional value expires 6 months from date of purchase. Purchase amount does not expire
Anything over a 6/12 pitch will have an additional charge of $0.80 per sq. ft.
LOCK IN NOW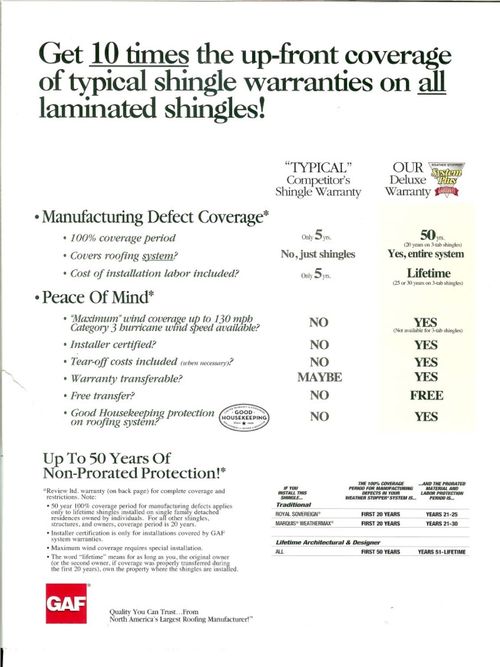 ---
Call (301) 232-3342
---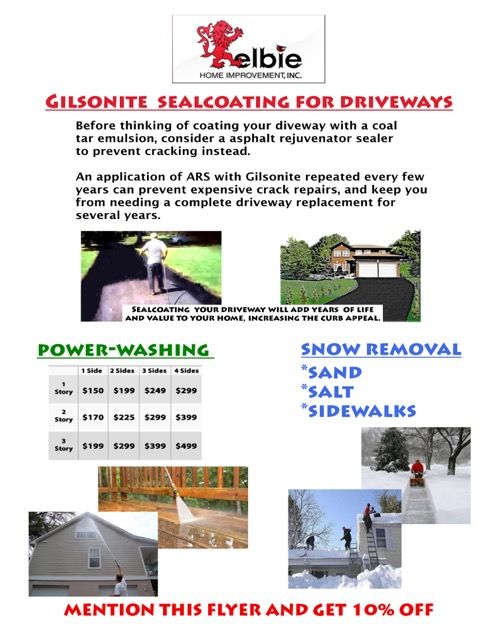 ---
Always FREE Quotes
---