Roof Shoveling in Bowie, MD
Kelbie Home Improvement, Inc. has been providing reliable and quality roof shoveling in Bowie, MD since 1982.
When it comes to a shoveling roofs in Bowie, our skilled roofers do the job right, maintaining our commitment to quality and high standards. We at Kelbie Home Improvement, Inc. have the experience and dependability that you are looking for in Bowie. We offer the most professional and affordable residential and commercial roof shoveling in Bowie, MD.
Kelbie Home Improvement, Inc. can efficiently shovel a roof in Bowie, doing a safe and thorough job. We are the best choice when it comes to shoveling snow and ice off roofs in Bowie. We have the right equipment and know-how to carefully shovel roof snow and remove ice dams that may form from the continual melting and re-freezing of snow. Is there ice in your gutters in Bowie? Call Kelbie Home Improvement, Inc. to help you with that potentially dangerous home maintenance task.
Do you need roof shoveling in Bowie or help with removing ice off your roof? Don't wait till the snow and ice damage your property. Call Kelbie Home Improvement, Inc. now! We know how to shovel a roof safely and efficiently. Let Kelbie Home Improvement, Inc. and our experienced roofers in Bowie handle your roof shoveling and do the job right without damaging your roofing material or the structure of your house or building! Remember, we are your go-to roofing company in Bowie!
Since 1982, Kelbie Home Improvement, Inc. has been shoveling roofs in Bowie. We have built a reputation being dependable and affordable for 35 years. You can trust that Kelbie Home Improvement, Inc.'s roofers in Bowie are as courteous as they are knowledgeable.
Contact Kelbie Home Improvement, Inc. about your roof snow removal in Bowie, Maryland. Our Bowie crew will be happy to provide you with a competitive roof shoveling quote and stand by the outstanding roofing service that we deliver.
---
WHAT CUSTOMERS ARE SAYING:
5★★★★★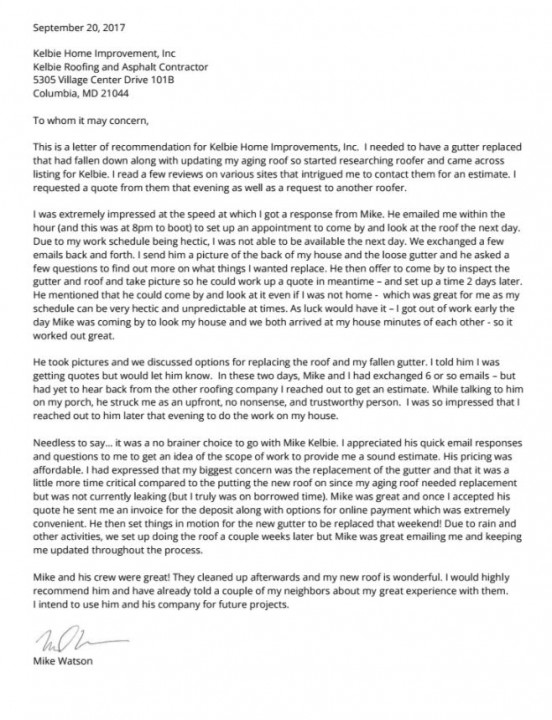 Mike Watson, Gutters in Baltimore, MD
---
5★★★★★ - "Mike,
Thanks for providing roofing service for my home on short notice. You were prompt in your response. I was very satisfied with you providing turnkey services by cutting my trees away from the roof, cleaning the gutters, and making repairs to the roof. Not to mention, the price was right for me."
Perry in Columbia, MD
---
5★★★★★ - "Mike Kelbie is extremely reliable and eminently competent. I could not recommend him more highly after seeing his work on multiple jobs over many years."
Lauren Streiff in Owings Mills, MD
---
4★★★★☆ - "After seeing a spot grow in the corner of our bathroom ceiling, I knew we needed to have our flat roof repaired. I put it off, not wanting to deal with the hassle, but our experience with Kelbie was anything but that. I called on a Saturday, fully expecting to have to take time off of work for somebody to take a look at it. Mike was at our house within an hour of our call,he fixed any future leaks and the roof was completed in just a few days. He quoted us less than the competitor and gave a 20 year warranty compared to a five year warranty that was offered by another company. We are glad to have that task off our home improvement list."
Anonymous in Ellicott City, MD
---
Call for FREE Roof Shoveling Quote
---