Metal Roofs in Scaggsville, MD 20723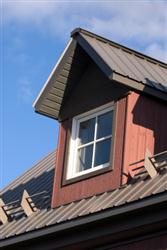 Kelbie Home Improvement, Inc. has proudly installed quality metal roofs in Scaggsville, MD since 1982.
Where Quality Meets Value
When it comes to installing a durable metal roof in Scaggsville, our skilled roofers do the job right. We always uphold our commitment to providing quality roofing materials and service delivery at a fair price. We at Kelbie Home Improvement, Inc. have the roofing expertise and dependability that you are looking for in a Scaggsville metal roofing contractor. We take pride in our professional service and delivery of affordable residential and commercial metal roofing installations in Scaggsville, MD. Kelbie Home Improvement, Inc. metal roofs are built to last!
Experienced Scaggsville Metal Roof Installers
Kelbie Home Improvement, Inc.'s experienced roofers can successfully install a metal roof in Scaggsville using a wide variety of roofing materials. Some types of metal roofing we have installed around Scaggsville including steel roofing, corrugated roofing, standing seam roofing and aluminum roofing. We can install steel roofs, tin roofs, copper or zinc roofs. Kelbie Home Improvement, Inc. offers a wide selection of materials for metal roof installation in Scaggsville, to compliment the architectural styles and colors of your home or office building. Kelbie Home Improvement, Inc. has a proven track record of providing outstanding metal roof installations. Let our experienced roofers in Scaggsville help you determine the right metal shingles for your Scaggsville roof.
Dependable Metal Roof Installation in Scaggsville
Do you need metal roof repair in Scaggsville? Don't hesitate to call us! Kelbie Home Improvement, Inc. knows how to perform metal roofing repair on any building, office or home and exceed expectations. Whether you need to repair a steel roof or copper roof in Scaggsville, we are your go-to roofing company in Scaggsville.
Since 1982, Kelbie Home Improvement, Inc. has been repairing and installing metal roofs in Scaggsville. We have built a reputation being dependable and detail-oriented for 35 years. You can trust that Kelbie Home Improvement, Inc.'s metal roofers in Scaggsville are as courteous as they are knowledgeable.
Contact Kelbie Home Improvement, Inc. about your metal roof in Scaggsville, Maryland. Our Scaggsville crew will be happy to provide you with a competitive metal roofing quote and stand by the outstanding roofing service that we deliver.
---
WHAT CUSTOMERS ARE SAYING:
5★★★★★ - "Kelbie Roofing company put a new roof on my home which was in desperate need of a new one due to wind damage. On February 7, 2017 I called for an estuimate and Shawn was here the same day. The price was great and the roof was just what I wanted. The men that worked here were very pleasant and made sure I didn't have any debris to clean. I would highly recommend Mike to anyone that needs any work done on their home. Kelbie Home Improvement, Inc. is agreat company!"
Millie Connolly, Roofing in Glen Burnie, MD
---
5★★★★★ - "Mike, Thank you for helping me replace my roof. The work completed by your team was professional and was completed as per the schedule given by you. Most of the businesses will ignore the customer after the project is completed and the payment was made. That was not the case with Kelbie Roofing. You helped me fix the window screen. In addition, your team came back to clean any of the debris and nails. Once again, thank you for helping me. I would recommend Kelbie Roofing to friends."
Bhanu, Roofing in Laurel, MD
---
5★★★★★ - "I have a rowhouse in Baltimore City that is over 100 years old, and the flat tar roof was in dire need of repair. I called several contractors over the course of a few days, and left messages in order to get a quote. When I called Mike, he picked up the phone right away and offered to come by the house on the same day to have a look at what needed to be done. Mike was clearly the most knowledgeable contractor I spoke to when we needed some repairs.
Mike provided me with a range of solutions, with a choice of quick fixes or a more permanent result. Mike was able to react according to my budget and was able to offer me a solution that would work for my family. We discussed several options, and Mike was able to work with me to get what we needed done.
I found that Mike was incredibly easy to deal with, very efficient from start to finish, and provided pictures of the roof to show the completed work. Kelbie Home Improvement is reliable and of expert quality, with great attention to detail. The work is guaranteed which puts my mind at ease, and I know that in the future I can rely on Kelbie Home Improvement for any house repair that is needed. Highly recommended!"
Rachel Berthold, Roofing in Baltimore, MD
---
5★★★★★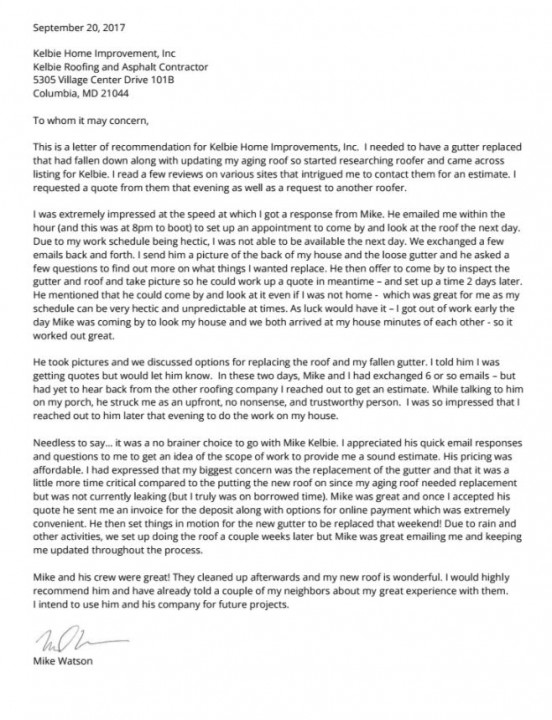 Mike Watson, Gutters in Baltimore, MD
---
Call for FREE Metal Roofs Quote
---