Gutter Cleaning in Severn, MD 21144
Get Your Gutters Cleaned
Same Day Services Available
Townhouses $150 up to 2 stories, $100 extra for each additional story
Single family houses $450 up to 2 stories
Gutter cleaning includes downspouts, if necessary. We'll use a water hose. We'll perform a clean job.
Larger jobs over 3000 sq. ft. or gutters over 200 linear ft. will incur an additional charge of $4.00 per linear foot for cleaning by hand. Cleaning by blower will incur an additional charge of $2.00 per linear foot.
Don't Let This Happen To You!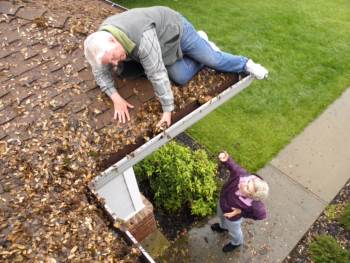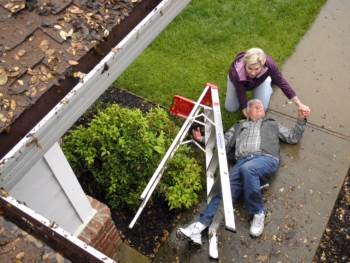 Call Kelbie Home Improvement, Inc. to have your gutters cleaned.
---
Are Your Gutters in Severn Clean?
When was the last time you had your Severn gutters cleaned? Gutters require regular maintenance in order to properly function for the safety of your home. Over time, debris begins to clog your Severn gutters which will weigh the gutters down and stop working as they should. Making sure your gutters are clean and clear of debris is crucial to ensure they are driving water away from your home - not seeping in!
Effective Gutter Cleaning in Severn, Maryland
Providing reliable and effective gutter cleaning in Severn since 1982, Kelbie Home Improvement, Inc. has the knowledge and experience to properly clean Severn gutters and bring them back to their fully-functional state. Leave the hassle and time-consuming chore to Kelbie Home Improvement, Inc.. Our crew have the right tools to get your gutters in Severn clean and driving that water away from your home!
Leaves, twigs, bugs and debris will have no home in your gutters once you call Kelbie Home Improvement, Inc.. Whether you need just a one-time gutter cleaning, or you're looking to schedule routine maintenance for your Severn gutters, call (301) 232-3342. We will provide you with a fair, fast quote and get your gutters clean in no time!
---
WHAT CUSTOMERS ARE SAYING:
5★★★★★ - "Had a leaky roof with a line of thunderstorms just hours away. Kelbie answered the last-minute call and promptly arrived on site to perform the repair. Replaced a few shingles and gave good advice on maintenance. Work looked great and survived both the thunderstorms less than an hour later as well as a wind storm the next day. I would call them again for any future needs. Recommended!"
Joe in Severn, MD
---
5★★★★★ - "Mike,
Thanks for providing roofing service for my home on short notice. You were prompt in your response. I was very satisfied with you providing turnkey services by cutting my trees away from the roof, cleaning the gutters, and making repairs to the roof. Not to mention, the price was right for me."
Perry in Columbia, MD
---
5★★★★★ - "Kelbie Roofing company put a new roof on my home which was in desperate need of a new one due to wind damage. On February 7, 2017 I called for an estuimate and Shawn was here the same day. The price was great and the roof was just what I wanted. The men that worked here were very pleasant and made sure I didn't have any debris to clean. I would highly recommend Mike to anyone that needs any work done on their home. Kelbie Home Improvement, Inc. is agreat company!"
Millie Connolly, Roofing in Glen Burnie, MD
---
5★★★★★ - "Mike, Thank you for helping me replace my roof. The work completed by your team was professional and was completed as per the schedule given by you. Most of the businesses will ignore the customer after the project is completed and the payment was made. That was not the case with Kelbie Roofing. You helped me fix the window screen. In addition, your team came back to clean any of the debris and nails. Once again, thank you for helping me. I would recommend Kelbie Roofing to friends."
Bhanu, Roofing in Laurel, MD
---
Call for FREE Gutter Cleaning Quote
---