Gutter Cleaning in Baltimore, MD
Get Your Gutters Cleaned
Same Day Services Available
Townhouses $150 up to 2 stories, $100 extra for each additional story
Single family houses $450 up to 2 stories
Gutter cleaning includes downspouts, if necessary. We'll use a water hose. We'll perform a clean job.
Larger jobs over 3000 sq. ft. or gutters over 200 linear ft. will incur an additional charge of $4.00 per linear foot for cleaning by hand. Cleaning by blower will incur an additional charge of $2.00 per linear foot.
Don't Let This Happen To You!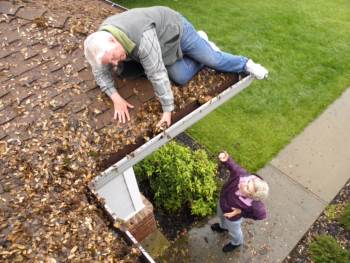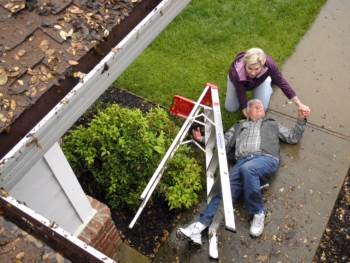 Call Kelbie Home Improvement, Inc. to have your gutters cleaned.
---
Are Your Gutters in Baltimore Clean?
When was the last time you had your Baltimore gutters cleaned? Gutters require regular maintenance in order to properly function for the safety of your home. Over time, debris begins to clog your Baltimore gutters which will weigh the gutters down and stop working as they should. Making sure your gutters are clean and clear of debris is crucial to ensure they are driving water away from your home - not seeping in!
Effective Gutter Cleaning in Baltimore, Maryland
Providing reliable and effective gutter cleaning in Baltimore since 1982, Kelbie Home Improvement, Inc. has the knowledge and experience to properly clean Baltimore gutters and bring them back to their fully-functional state. Leave the hassle and time-consuming chore to Kelbie Home Improvement, Inc.. Our crew have the right tools to get your gutters in Baltimore clean and driving that water away from your home!
Leaves, twigs, bugs and debris will have no home in your gutters once you call Kelbie Home Improvement, Inc.. Whether you need just a one-time gutter cleaning, or you're looking to schedule routine maintenance for your Baltimore gutters, call (301) 232-3342. We will provide you with a fair, fast quote and get your gutters clean in no time!
---
WHAT CUSTOMERS ARE SAYING:
5★★★★★ - "Had my roof fixed a couple months ago but had a small leak because my drain was backing up. Kelbie came by and fixed it quickly and at no cost! Didn't believe how good the warranty was going to be until they fixed the problem so quickly!!!"
Jason in Baltimore, MD
---
"Probably the best experience I've has with a contactor. Responded by text the next day and was able to jump onto my roof without me being home and sent me an estimate the same day. Also they were able to work me in and get everything done within 1 week. Very tech savvy and continuously gave me updates via text and photos. I brought up some concerns about a specific area of concern and he came up with a solution. Would definitely recommend to friends and family."
Jason W., Roofing in Baltimore, MD
---
5★★★★★ - "Very communicative via text and photos. Got an estimate in 1 day without me being at home. Got the fix done in < 1 week. Very easy to work with."
Jason in Baltimore, MD
---
"I have two properties one in Baltimore and a rental in DC. Mike was very professional and courteous. He completed my job in a timely manner. His crew was very well mannered. I would highly recommend him and his company to anyone looking for this type of work. He also does remodeling and I'm going to have him come to my personal residence to do my basement this Fall. Thank you Mike Kelbie."
Shaun B. in Baltimore, MD
---
Call for FREE Gutter Cleaning Quote
---