Cool Roofs in Ellicott City, MD
Elastomeric Roofs in Ellicott City
An elastomeric roof (or cool roof) is one of the best investments you can make on your property. Coating your Ellicott City roof is the best solution if you are in need of a stronger system that will resist leads and weathering for years to come. We offer free consultations on roofing projects. Just call (301) 232-3342 today.
The benefits to enhancing your Ellicott City roof with a cool roofing system are many. You will receive unmatched water resistance and weather resistance capabilities to your roof. The super-strong coating system will allow the entire top layer of your building the ability to expand and contract. This is beneficial because the flexibility compensates for the natural swaying and shifting that buildings constantly experience due to wind, temperature changes and settling.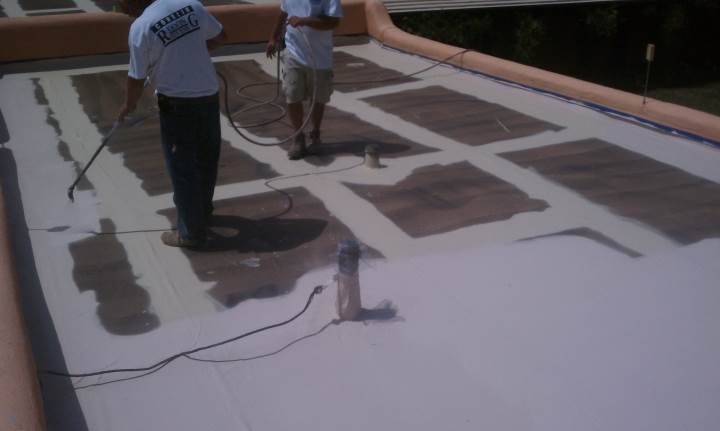 Why a Cool Roof in Ellicott City?:
Increase Energy Efficiency
Excellent Solar Reflectivity
Roof Protection
Sustainability
Improve Aesthetic Value
Great Return on Investment
Our roofing experts in Ellicott City specialize in elastomeric roofing. Elastomeric roofs are rubber based and can be applied in most colors imaginable. Colors can also be customized to suit your specifications. Most home and business owners in Ellicott City choose roof coatings in white because it best reflects solar rays, making the building extremely energy efficient. The building stays cooler, reducing HVAC costs and the natural aging of the building due to the sun's powerful rays is slowed considerably.
5 Steps to Getting a Cooler Roof in Ellicott City Maryland
Hire a professional that is experienced in roof coatings in Ellicott City
Opt for a light colored coating, which will reflect the most UV rays
Choose heat resistant materials, and consider elastomeric coatings, which will expand and contract through weather cycles
Make sure your building has adequate ventilation
Green roofing will reduce the amount of heat that is absorbed by your roof. There are a number of plants and trees that can help shade your roof.
---
WHAT CUSTOMERS ARE SAYING:
4★★★★☆ - "After seeing a spot grow in the corner of our bathroom ceiling, I knew we needed to have our flat roof repaired. I put it off, not wanting to deal with the hassle, but our experience with Kelbie was anything but that. I called on a Saturday, fully expecting to have to take time off of work for somebody to take a look at it. Mike was at our house within an hour of our call,he fixed any future leaks and the roof was completed in just a few days. He quoted us less than the competitor and gave a 20 year warranty compared to a five year warranty that was offered by another company. We are glad to have that task off our home improvement list."
Anonymous in Ellicott City, MD
---
5★★★★★ - "Kelbie Roofing company put a new roof on my home which was in desperate need of a new one due to wind damage. On February 7, 2017 I called for an estuimate and Shawn was here the same day. The price was great and the roof was just what I wanted. The men that worked here were very pleasant and made sure I didn't have any debris to clean. I would highly recommend Mike to anyone that needs any work done on their home. Kelbie Home Improvement, Inc. is agreat company!"
Millie Connolly, Roofing in Glen Burnie, MD
---
5★★★★★ - "Mike, Thank you for helping me replace my roof. The work completed by your team was professional and was completed as per the schedule given by you. Most of the businesses will ignore the customer after the project is completed and the payment was made. That was not the case with Kelbie Roofing. You helped me fix the window screen. In addition, your team came back to clean any of the debris and nails. Once again, thank you for helping me. I would recommend Kelbie Roofing to friends."
Bhanu, Roofing in Laurel, MD
---
5★★★★★ - "I have a rowhouse in Baltimore City that is over 100 years old, and the flat tar roof was in dire need of repair. I called several contractors over the course of a few days, and left messages in order to get a quote. When I called Mike, he picked up the phone right away and offered to come by the house on the same day to have a look at what needed to be done. Mike was clearly the most knowledgeable contractor I spoke to when we needed some repairs.
Mike provided me with a range of solutions, with a choice of quick fixes or a more permanent result. Mike was able to react according to my budget and was able to offer me a solution that would work for my family. We discussed several options, and Mike was able to work with me to get what we needed done.
I found that Mike was incredibly easy to deal with, very efficient from start to finish, and provided pictures of the roof to show the completed work. Kelbie Home Improvement is reliable and of expert quality, with great attention to detail. The work is guaranteed which puts my mind at ease, and I know that in the future I can rely on Kelbie Home Improvement for any house repair that is needed. Highly recommended!"
Rachel Berthold, Roofing in Baltimore, MD
---
Call for FREE Cool Roofs Quote
---