Cool Roofs in Columbia, MD
Elastomeric Roofs in Columbia
An elastomeric roof (or cool roof) is one of the best investments you can make on your property. Coating your Columbia roof is the best solution if you are in need of a stronger system that will resist leads and weathering for years to come. We offer free consultations on roofing projects. Just call (301) 232-3342 today.
The benefits to enhancing your Columbia roof with a cool roofing system are many. You will receive unmatched water resistance and weather resistance capabilities to your roof. The super-strong coating system will allow the entire top layer of your building the ability to expand and contract. This is beneficial because the flexibility compensates for the natural swaying and shifting that buildings constantly experience due to wind, temperature changes and settling.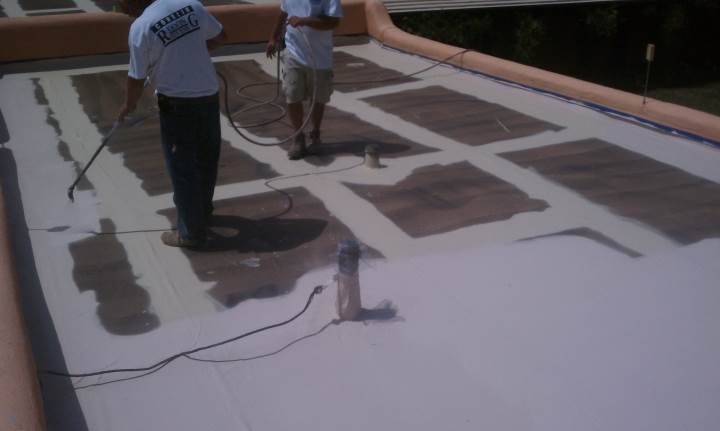 Why a Cool Roof in Columbia?:
Increase Energy Efficiency
Excellent Solar Reflectivity
Roof Protection
Sustainability
Improve Aesthetic Value
Great Return on Investment
Our roofing experts in Columbia specialize in elastomeric roofing. Elastomeric roofs are rubber based and can be applied in most colors imaginable. Colors can also be customized to suit your specifications. Most home and business owners in Columbia choose roof coatings in white because it best reflects solar rays, making the building extremely energy efficient. The building stays cooler, reducing HVAC costs and the natural aging of the building due to the sun's powerful rays is slowed considerably.
5 Steps to Getting a Cooler Roof in Columbia Maryland
Hire a professional that is experienced in roof coatings in Columbia
Opt for a light colored coating, which will reflect the most UV rays
Choose heat resistant materials, and consider elastomeric coatings, which will expand and contract through weather cycles
Make sure your building has adequate ventilation
Green roofing will reduce the amount of heat that is absorbed by your roof. There are a number of plants and trees that can help shade your roof.
---
WHAT CUSTOMERS ARE SAYING:
5★★★★★ - "Mike,
Thanks for providing roofing service for my home on short notice. You were prompt in your response. I was very satisfied with you providing turnkey services by cutting my trees away from the roof, cleaning the gutters, and making repairs to the roof. Not to mention, the price was right for me."
Perry in Columbia, MD
---
5★★★★★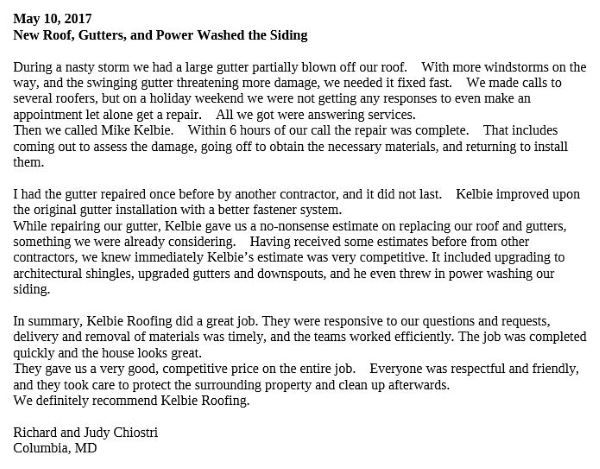 Richard & Judy Chiostri - Roofing, Gutters, Siding in Columbia, MD
---
5★★★★★ - "New roof, gutters, and power washed the siding
Kelbie Roofing did a great job. They were responsive to our questions and requests, delivery and removal of materials was timely, and the teams worked efficiently. The job was completed quickly and the house looks great. They gave us a really good competitive price on the entire job. Everyone was respectful and friendly, and they took care to protect the surrounding property and clean up afterwards. Definitely would recommend Kelbie again."
Rich C. in Columbia, MD
---
5★★★★★ - "Kelbie Roofing is truly a family run company with 5 generations of roofing expertise (I think I had 3 generations on my roof personally). I was in a difficult situation with water rushing into my home every time it rained. Kelbie was the third contractor that I called and they provided a quote was that was 20% to 50% less than their competition. They also provided a longer warranty than I was offered elsewhere. They had the work done within a week and the leakage has completely stopped. I high recommend them for flat roofs, quick turnarounds and very fair pricing."
Robby B., Flat Roofs in Columbia, MD
---
Call for FREE Cool Roofs Quote
---