Asphalt Seal Coating in Laurel, MD
Seal coating protects your Laurel asphalt driveway from weather damage, automotive fluids, and every day wear and tear. It also give your driveway a beautiful finish. Kelbie Home Improvement, Inc. has been seal coating driveways in Laurel, Maryland for 35 years.
Get premium weather protection with a professionally applied seal coat by Kelbie Home Improvement, Inc.. Our professional staff will get the job done right the first time, making your driveway beautiful and safe. Call (301) 232-3342 today for a free quote.
Seal coat your Laurel driveway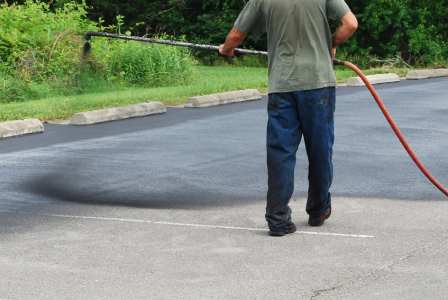 Driveways take a beating from the weather, vehicular traffic, chemicals, and pedestrian traffic.
Make sure your Laurel, MD asphalt driveway is up to the task with a premium seal coat, applied by the experts at Kelbie Home Improvement, Inc..
We use a sand slurry mixed with sand for the best seal coat performance. The Kelbie Home Improvement, Inc. seal coating process includes asphalt cleaning, pre treating chemical spills and cracks, and hand applied seal coat.
For premium asphalt maintenance in Laurel, call (301) 232-3342 to schedule your residential driveway seal coating job.
Worry-free asphalt maintenance.
A properly seal coated driveway is much easier to maintain and is safer for your family. In fact, regular asphalt seal coating makes your driveway safer for your vehicles, too.
Once you have asphalt erosion, frost heaves, or potholes, the only solution is to completely resurface your asphalt. Proper maintenance of your Laurel driveway saves you money by preventing costly repairs.
Make your life easier by calling the Laurel seal coat specialists at Kelbie Home Improvement, Inc. for a professional seal coat application: (301) 232-3342.
Get rid of the bumps in your road.
An asphalt driveway doesn't last forever. But you can make it last longer by calling Kelbie Home Improvement, Inc. for professional asphalt seal coating. Kelbie Home Improvement, Inc. has been seal coating residential driveways in Laurel, MD for 35 years.
---
WHAT CUSTOMERS ARE SAYING:
5★★★★★ - "Mike, Thank you for helping me out with replacing the roof. The work completed by your team was professional and was completed as per the schedule given by you. Most of the businesses will ignore the customer after the project is completed and the payment was made. That was not the case with Kelbie Roofing. Your helped me fix the window screen. In addition your team came back to remove any of the debris and nails. Once again thank you for helping me. I would recommend Kelbie Roofing to friends. Regards, Bhanu"
Bhanu, Roofing in Laurel, MD
---
5★★★★★ - "Mike,
Thanks for providing roofing service for my home on short notice. You were prompt in your response. I was very satisfied with you providing turnkey services by cutting my trees away from the roof, cleaning the gutters, and making repairs to the roof. Not to mention, the price was right for me."
Perry in Columbia, MD
---
5★★★★★ - "Mike Kelbie is extremely reliable and eminently competent. I could not recommend him more highly after seeing his work on multiple jobs over many years."
Lauren Streiff in Owings Mills, MD
---
4★★★★☆ - "After seeing a spot grow in the corner of our bathroom ceiling, I knew we needed to have our flat roof repaired. I put it off, not wanting to deal with the hassle, but our experience with Kelbie was anything but that. I called on a Saturday, fully expecting to have to take time off of work for somebody to take a look at it. Mike was at our house within an hour of our call,he fixed any future leaks and the roof was completed in just a few days. He quoted us less than the competitor and gave a 20 year warranty compared to a five year warranty that was offered by another company. We are glad to have that task off our home improvement list."
Anonymous in Ellicott City, MD
---
Call for FREE Asphalt Seal Coating Quote
---