Asphalt Seal Coating in Baltimore, MD
Seal coating protects your Baltimore asphalt driveway from weather damage, automotive fluids, and every day wear and tear. It also give your driveway a beautiful finish. Kelbie Home Improvement, Inc. has been seal coating driveways in Baltimore, Maryland for 35 years.
Get premium weather protection with a professionally applied seal coat by Kelbie Home Improvement, Inc.. Our professional staff will get the job done right the first time, making your driveway beautiful and safe. Call (301) 232-3342 today for a free quote.
Seal coat your Baltimore driveway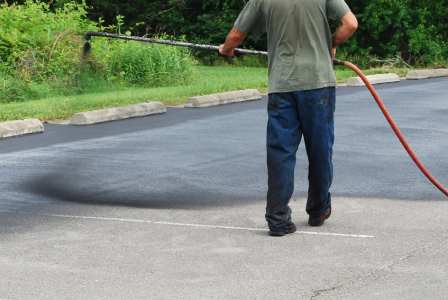 Driveways take a beating from the weather, vehicular traffic, chemicals, and pedestrian traffic.
Make sure your Baltimore, MD asphalt driveway is up to the task with a premium seal coat, applied by the experts at Kelbie Home Improvement, Inc..
We use a sand slurry mixed with sand for the best seal coat performance. The Kelbie Home Improvement, Inc. seal coating process includes asphalt cleaning, pre treating chemical spills and cracks, and hand applied seal coat.
For premium asphalt maintenance in Baltimore, call (301) 232-3342 to schedule your residential driveway seal coating job.
Worry-free asphalt maintenance.
A properly seal coated driveway is much easier to maintain and is safer for your family. In fact, regular asphalt seal coating makes your driveway safer for your vehicles, too.
Once you have asphalt erosion, frost heaves, or potholes, the only solution is to completely resurface your asphalt. Proper maintenance of your Baltimore driveway saves you money by preventing costly repairs.
Make your life easier by calling the Baltimore seal coat specialists at Kelbie Home Improvement, Inc. for a professional seal coat application: (301) 232-3342.
Get rid of the bumps in your road.
An asphalt driveway doesn't last forever. But you can make it last longer by calling Kelbie Home Improvement, Inc. for professional asphalt seal coating. Kelbie Home Improvement, Inc. has been seal coating residential driveways in Baltimore, MD for 35 years.
---
WHAT CUSTOMERS ARE SAYING:
5★★★★★ - "Had my roof fixed a couple months ago but had a small leak because my drain was backing up. Kelbie came by and fixed it quickly and at no cost! Didn't believe how good the warranty was going to be until they fixed the problem so quickly!!!"
Jason in Baltimore, MD
---
"Probably the best experience I've has with a contactor. Responded by text the next day and was able to jump onto my roof without me being home and sent me an estimate the same day. Also they were able to work me in and get everything done within 1 week. Very tech savvy and continuously gave me updates via text and photos. I brought up some concerns about a specific area of concern and he came up with a solution. Would definitely recommend to friends and family."
Jason W., Roofing in Baltimore, MD
---
5★★★★★ - "Very communicative via text and photos. Got an estimate in 1 day without me being at home. Got the fix done in < 1 week. Very easy to work with."
Jason in Baltimore, MD
---
"I have two properties one in Baltimore and a rental in DC. Mike was very professional and courteous. He completed my job in a timely manner. His crew was very well mannered. I would highly recommend him and his company to anyone looking for this type of work. He also does remodeling and I'm going to have him come to my personal residence to do my basement this Fall. Thank you Mike Kelbie."
Shaun B. in Baltimore, MD
---
Call for FREE Asphalt Seal Coating Quote
---